The summer is on and everybody wants to chill their tummy. Here is a wonderful and healthy beetroot milk shake. It is said that this root will help in increasing your blood too. Why are you waiting, enjoy this wornderful milk shake.
Ingredients
Beetroot - 1 big (grated)
Milk - 300 ml
Sugar - 4 tsp
Cardamom Powder - a pinch
Whipped cream - (optional)
Ice cream (Optional)
Subja (Basil Seeds) - 1 tsp (soaked in water) *
* image attached below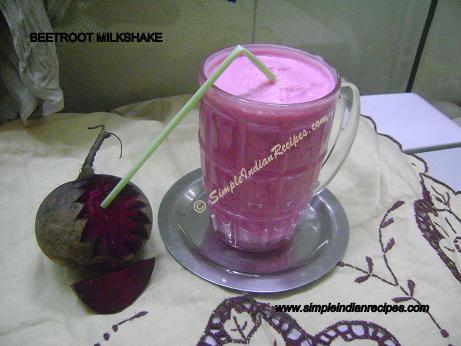 Method
1. Cook the grated beetroot with 2 cups of water.
2. When it is tender, remove from gas and allow to cool.
3. Blend the same in a mixer/blender nicely.
4. Add the milk, sugar, cardomom powder, whip cream and blend again.
5. Serve chilled with or without ice cream by adding subja.
Here is an image of Basil Seeds (Tukmaria or Subja) before and after soaking in water.