In India, pickles are an integral part of everyday meal. It adds so much flavour instantly to any meal. In olden days, pickle making was an art. People spent days making the perfect spice blend, adding the necessary preservatives and storing it appropriately so that it stays good for many many months with no refrigeration. In the 21st century, there is no house without a refrigerator. As a result making pickle and preserving it has become very simple. You can make instant pickles with almost any vegetable. Here is the recipe for instant garlic pickle. The time consuming process is peeling the garlic. Just buy a pack of peeled garlic and you are in business. You can use this garlic pickle with roti, rice, to flavour gravies or to make sandwiches. So here is the recipe...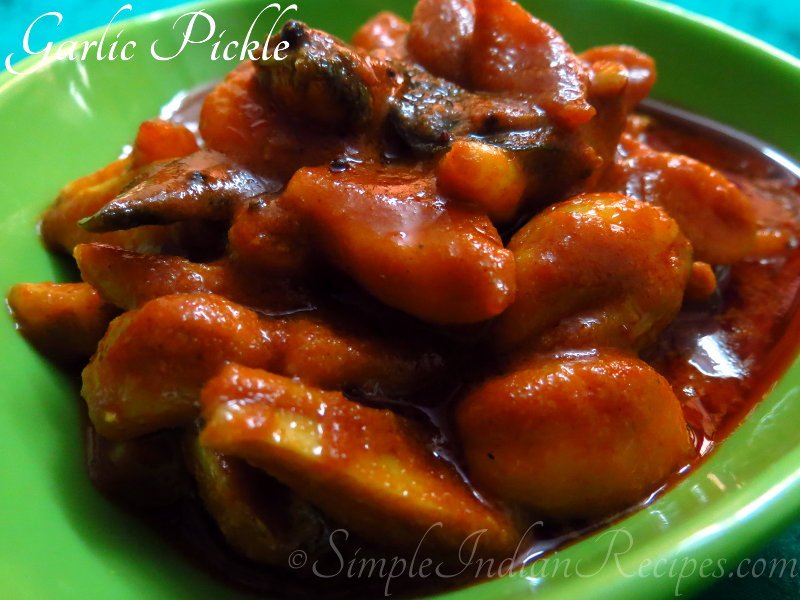 Ingredients
Garlic - 1/4 kg (1/2 lb Peeled)
Salt - 2 tsp
Chilli powder - 2 tsp
Turmeric powder - 1/2 tsp
Asafoetida - 1/2 tsp
Coriander Seeds - 2 tblsp
Fenugreek powder - 1/2 tsp
Mustard powder - 1/2 tsp
Mustard seeds - 1 tsp
Curry leaves - 1 sprig
Dry red chillies - 2-3
Gingerly oil - 2 tblsp
Vinegar - 2 tblsp
Preparation
1. Peel the garlic and keep it ready.
2. Dry roast the fenugreek seeds, coriander seeds and mustard seeds, cool and powder it. This helps to preserve the pickle as well as gives a nice flavor. You can skip the 2 ingredients if you do not intent to keep the pickle for a long time. These days with refrigerators, pickles stay good even with less oil and preservatives.
Method
1. Mix the salt, turmeric powder, chilli powder, the above ground powder in a small bowl.
2. Heat the oil in a pan and pop the mustard seeds. Add the dry red chilies, asafoetida and curry leaves.
3. Add the peeled garlic and saute in low flame for few minutes till it gets a little soft.
4. Add the mixed spice powder and cook on low flame till oil oozes out. Switch off.
5. Once it cools down, add the vinegar.
Store the delicious garlic pickle in a clean, air tight container. It stays good in the refrigerator for upto 2 months.
Serving Suggestion
- This pickle can be used as a side dish with chappatti, variety rice or white rice and some curry.
- This can be used as a spread to make sandwiches and wraps.
- The garlic pickle makes a perfect dip for crackers or baked chips.
- Mix up some pickle with some yogurt and serve as an instant side dish for parathas.